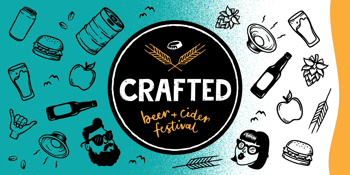 Crafted Beer & Cider Festival
150+ Brews • Music • Gourmet Food
Kurrawa Park (Broadbeach, QLD)
Saturday, 6 October 2018 12:00 PM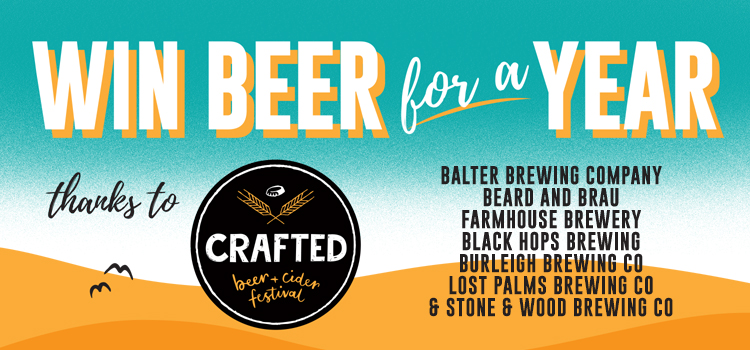 150+ BREWS • MUSIC • GOURMET FOOD
Plus your chance to win beer for a year!
Last year's Crafted Festival was an absolute blast, and we can't wait to do it all again...but bigger and better!
Shining a beacon on local brewers from the Gold Coast, South East Queensland and interstate, it's a one afternoon and evening celebration in honour of a top quality drop.
This year's event features over 35 local and interstate (and an international!) breweries bringing along over 150 craft beers, ciders and ginger beers for you to sample, while listening to a full day of live music and chomping down on some delicious eats from some of South East Queensland's finest food trucks.
PLUS...want to score yourself a case of craft beer, every month for an entire year? Well, thanks to our local Gold Coast region brewers, we are offering up this sweet prize to one lucky winner who nabs themselves an Early Bird ticket.
There are only 500 Early Bird tickets up for grabs, and each one of them comes with the chance to win 2 cases of beer from each of Balter Brewing Company, Beard and Brau Farmhouse Brewery, Black Hops Brewing, Burleigh Brewing Co, Lost Palms Brewing Co & Stone & Wood Brewing Co.
Early Bird tickets are on sale, so be quick and grab yours now for your chance to win this epic prize. The early bird gets the...beer.
The competition is open to Queensland residents only. For full terms and conditions, click here.
So round up your mates, and get yourself along to Crafted Festival! Hop to it.