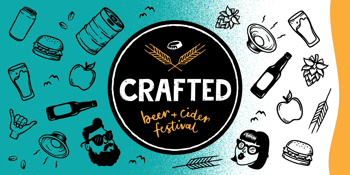 Crafted Beer & Cider Festival
150+ Brews • Music • Gourmet Food
Kurrawa Park (Broadbeach, QLD)
Saturday, 6 October 2018 12:00 pm
150+ BREWS • MUSIC • GOURMET FOOD
Last year's Crafted Festival was an absolute blast, and we can't wait to do it all again...but bigger and better!
Shining a beacon on local brewers from the Gold Coast, South East Queensland and interstate, it's a one afternoon and evening celebration in honour of a top quality drop.
This year's event features over 35 local and interstate (and an international!) breweries bringing along over 150 craft beers, ciders and ginger beers for you to sample, while listening to a full day of live music and chomping down on some delicious eats from some of South East Queensland's finest food trucks.
So round up your mates, and get yourself along to Crafted Festival! Hop to it.


---

CRAFTED CASH
Crafted Festival is 100% cashless event. All food and drink purchased at Crafted Festival will be with the use of a simple tap-and-go Crafted Cash Wristband.
Crafted Cash helps to make your festival experience much easier and quicker. No cash handling means less queues and more time for you to enjoy the festival. No more ducking to the ATM, long queues or counting out your coins when it's your round!
HOW IT WORKS
Simply load your Crafted Cash wristband with the value of money you wish to spend at the event, and away you go! Present your Crafted Cash wristband at any of the food and drink exhibitors throughout the festival to redeem credit. Any of the exhibitors or top-up staff can tell you exactly how much credit you have remaining at any time.
HOW TO BUY CRAFTED CASH
You can purchase Crafted Cash as part of your ticket online (in values of $30, $50 or $100), or at the festival. We recommend that you pre-purchase this as part of your ticket, so you can enjoy the festival as soon as you arrive. All pre-purchased Crafted Cash wristbands will be given to you as soon you enter the festival.
There will also be a Crafted Cash top-up station, as well as roving top-up staff throughout the festival. You will be able to use cash or card to purchase Crafted Cash.
There is a one-time wristband activation fee of $2.50. This is deducted from your initial top-up. It only gets deducted once, and means you don't have nasty ATM fees each time you need more cash at the festival!
HOW MUCH SHOULD YOU ADD ONTO YOUR CRAFTED CASH WRISTBAND?
That depends on how much you plan on spending! Here's a rough guide for prices on the day:
80mL sample of beer or cider starts from $2 per sample
285mL beer or cider starts from $6
Food prices ranges from $5 - $25
CRAFTED CASH REFUNDS
Gone are the days of ending up with $50 of useless drink tokens after a festival. If you didn't spend all of your Crafted Cash from your wristband you can simply register for a refund of your unspent credit!
All refunds will be processed online after the event, where you will have a 1 week time frame to submit. This means no waiting in lines to claim your refund as you leave the event.
More information on how to claim your refund will be emailed to all ticket holders as well as have this information available at the event.