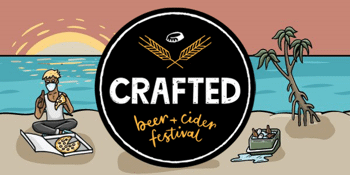 Woodlands Events presents
Crafted Beer & Cider Festival
200+ brews, music, gourmet food trucks & more
Kurrawa Park (Broadbeach, QLD)
Saturday, 28 November 2020 12:00 pm
*Tickets include festival entry, access to the some of the best crafty beeristas from across Australia and the 200+ brews including limited release and festival specialty brews, a full day of live music, entertainment, beery fun activities and gourmet food trucks. Food and drinks are to be purchased throughout the festival.

CRAFTED BEER & CIDER FESTIVAL 2020 IS BACK ON!

200+ brews, music, food trucks & good times will once again be rolling into Broadbeach this November.

With QLD event restrictions easing and now allowing standing while holding a bevvie, we're stoked to announce that we're back on and happening Saturday 28th November 2020.

The festival will now be able to run in a very similar format to previous years where you can roam the site, try out some new drops and chat to your mates over a top quality frothy, of course with the addition of COVID Safe measures like social distancing and no dancing.

We've also been able to increase our capacity slightly and have now released additional tickets. Tickets sold out in a record few weeks, so if you missed out first time around, grab your ticket now before they're all snapped up!

Stay tuned as the updated line-up of brews, bands and bites will be announced very soon.

Head to https://www.craftedfestival.com.au/ for more info.

Early Bird - SOLD OUT
1st Release - SOLD OUT
2nd Release - SOLD OUT
Final Release - ON SALE NOW

Chuck on a 2020 Crafted Festival stubby cooler, or wooden paddle to your ticket order and collect these from the festival on the day so that you can crack on and sample brews right away! Please note, wooden paddles do not include beer tasters.

-----------------------------

To keep in line with COVID-safe measures, every ticketholder is required to register contact details including email and phone number when purchasing your tickets, so please have these details ready.